~~~ PRESSROOM RELEASES ~~~~
---
Press Release – 20th Annual Heritage Day

The 20th annual Heritage Day 2013 will be Saturday, September 14th, 2013, 9:30 - 4:00 pm in Courtland, sponsored by the Southampton County Historical Society and the Southampton Heritage Village /Agriculture & Forestry Museum on Heritage Lane in Courtland, VA. Admission at the Ag & Forestry Museum is $3 for adults and $1 for school age children. Preschoolers are free.

Museum standbys such as the saw mill, grist mill and printing presses will run throughout the day. Crafts people from Virginia and North Carolina, many in period costumes, will demonstrate old crafts, with craft items for sale. Lunch will be for sale on the grounds – BBQ, Brunswick stew, hot dogs, snacks, apple and sweet potato jacks, and soft drinks.

A special exhibit at the Museum of Southampton History will feature many local historical artifacts, including military uniforms from the various wars and conflicts, replicas of several historic local homes, and sports memorabilia and photographs from local schools' championship football teams over the years. Admission to this exhibit will be $2.00 for adults. Rick Francis and Will Dunstan will be at the Rebecca Vaughan House, on site, from 10 til 2 to answer questions about Nat Turner and the 1831 Southampton Slave Insurrection.

Always a popular attraction, the museum's grist mill will grind fine corn meal which will be available for a donation. Samples of hot corn bread, made from that meal will be given away throughout the day. Jimmy Creasey will demonstrate the old technique of typesetting on the museum's two old printing presses, including an 1885 Chandler & Price. Visitors can get a free bookmark bearing the museum's logo which they will be printing that day. Youngsters may wish to print their own bookmarks. Antique cars and tractors will be on display. In addition, the 1920's Ground Sawmill and planing mill at the Agriculture and Forestry Museum will be in operation several times during the day. The blacksmith shop too will be open, with blacksmiths at work.

Among the crafts being demonstrated and for sale visitors will find painted gourds, baskets, handmade jewelry , sewing, quilting, hair bows, candles, floral arrangements, books and paintings by local talent, painted rock paperweights, as well as various types of needlework and wood work. Other special demonstrations include wood carving, spinning wool on an old spinning wheel, rug making on a circa 1920 loom, crocheting and knitting. Some of the other old crafts to see are lye soap making, butter making, hominy making, cracklings and lard rendering. Civil War re-enactors will set up camp throughout the day and will also teach rope making.

A local trapper will demonstrate how to handle and tan fur. Gasoline engines will be running at times throughout the day. Dulcimer and string music by Potecasi Creek String Band from Murfreesboro can be heard resonating around the grounds. Gourds, pumpkins, produce, pickles, jams and baked goods will be for sale.

"Shiloh Grass," a local blue grass band and crowd favorite, will entertain during the day. The little country church is always an attraction. Archie Howell, writer for a local newspaper, will be available to talk about his writings. Special exhibits of old Blacksmithing Tools, an assortment of Old Washing Machines, and well over 100 antique toy tractors can be seen inside the museum. Other ongoing activities include corn shucking, shelling, and corn-cob pipe making, bee keeping, and washboard washing of clothes. Story telling will take place in the one room school at 11am and 1:30 pm.

Miniature horses will appeal to small fry along with a Petting Zoo for children of all ages to enjoy, featuring healthy, gentle pet farm animals. Have you ever seen baby chicks pip their way out of eggs? They will be hatching on Sept. 14th! Smokey the Bear will visit, and there will be hay rides, face painting, animals made from balloons, wheel barrow rides, and a hen house full of chickens. Also, young folks can learn the art of milking a cow by practicing on "Mattie," our replica "cow."

In addition to all the special activities, visitors are welcome to tour the Agriculture & Forestry Museum and all of its outbuildings and Heritage Village, which includes a country store, one room school, country dwelling, doctor's office, smoke house, old post office, and two outhouses, among other buildings. A newly restored barber shop will be open with family members telling stories about its history.

This 20th Heritage Day event promises to provide a wholesome and fun outing for the whole family. Visitors will see how the older generations lived, how hard they worked to make a living. Come and learn how they made the items in their homes and on the farm. Farming activities included the whole family. We offer something for all ages to enjoy.


Family Search Project Update
The FamilySearch project has been completed. All digital images of genealogical/historical records, including deeds, wills, marriage records, order books, land tax books, bond books, etc. can now be viewed on the FamilySearch website.

The link to FamilySearch has been provided on our Home Page – Genealogy section.
Working with Tony Gilreath from FamilySearch was a pleasure, and the project ran smoothly.

I also want to thank the Isle of Wight County Historical Society and all those who volunteered their time in unfolding all loose papers and documents and preparing the documents for digitization. The efforts of the volunteers made it possible to complete this project within a four-month period.

On a personal note, thank you again Volunteers! Your time is greatly appreciated.
Sharon Jones, Clerk
---
Genealogy / Research
The Clerk's Office of the Circuit Court is a good place to conduct genealogical research. The Clerk's Office contains the following materials:
Will records beginning in the 1600′s
Deed records beginning in the early 1700′s
Birth records 1853 to 1885
Death records 1853 to 1876
Marriage records beginning in 1772

We invite you to visit our spacious records room, where you can view documents on our public computers or pull the actual books from the shelves.

The Clerk's office provides SRA (secure remote access) to our land records.($300.00 for six months subscription. SRA provides Internet access to Deeds and Wills…Date Range 1647 to present for Wills; and Date Range 1701 to present for Deeds. Also available are Marriage Licenses, Judgments, and Financing Statements…Date Range 1993 to present. The hardware and software used to generate these electronic records are supplied and maintained by Logan Systems, Inc.

If you are interested in signing up for SRA, please read our SRA cover letter and submit an application.

SRA Cover Letter
SRA Application

In 1980 documents of pre-1913 chancery causes (also known as "loose papers") were transferred to the Library of Virginia, and said documents were then scanned and indexed by LVA, and are available to anyone free of charge. Just visit http://www.virginiamemory.com/collections/chancery/, or simply go the http://www.lva.virginia.gov/ and search for Chancery Records Index. The digital images as well as the original case files are maintained at LVA at no cost to the County.

For additional records and information on how to begin tracing your family history visit the Library of Virginia's Website. Many of the records stored in the Clerk's Office can be accessed through this link.

On May 21, 2012 FamilySearch began capturing digital images of genealogical/historical records, including deeds, wills, marriage records, order books, land tax books, bond books, etc from 1647 to 1917. Today, all of these records are available online through the FamilySearch website.

For your convenience, if the researcher provides a book and page number reference, the Clerk's Office staff will make copies at a cost of 50 cents per page. When you send in your request, please be sure to include a self-addressed, stamped envelope for returning of documents.

---
Fort Boykin Fire Source Unknown
Read full article Part 1 here and Part 2 here
---
Sad Day for Old Smithfield Jail built in 1902
(click here to read full story and see images)
---
A winery at the 'Castle?' (read the entire story)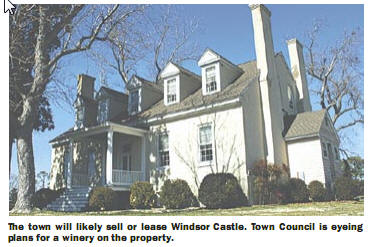 ---
The Isle of Wight Historical Society wisely concluded that, while the Charles Driver Jordan House should certainly be preserved, it is outside the society's ability to undertake the task . . .
---
Historic Jordan House up for Sale ... Smithfield Times article
The IWCHS has reluctantly come to the conclusion that they can no longer pursue the restoration of the Jordan House and have turned it back to the owners Henry Morgan and Richard Turner. The hope still is that someone will buy the property, move and restore the house or use the massive structural timbers, flooring, and the massive curved staircase in another project.
---