Old IW Jail to be Dismantled, Salvaged
By Diana McFarland
News editor
Dismantle, not demolish, Isle of Wight County's old jail, suggested a local historian. Isle of Wight resident and historian Lee Duncan told the Architectural and Historic Review Committee that some of the components of the circa 1902 jail could be salvaged — such as timber, bricks and metal. "In that type of destruction there could be some interesting things," Duncan said of taking apart the building slowly rather than plowing it down to the ground.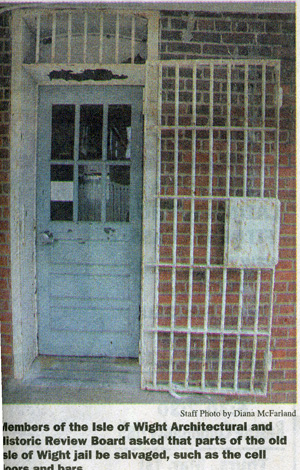 "It certainly will take longer, but not cost more," said Duncan, who recently took over as president of the Isle of Wight Historical Society. The committee unanimously agreed Feb. 1 to give the county permission to remove the building — a necessary step before the Isle of Wight Board of Supervisors begins looking for a company to do the work. The committee also agreed to leave the decision about the method — either to demolish or dismantle —- to the Board of Supervisors.

The Board agreed to salvage what is possible at its Feb. 16 meeting. Historic Resources Director Jennifer Williams said the bricks are mostly unusable, since they were mortared with concrete rather than lime. The bricks probably won't stand up to the concrete being removed and the Boykin's Tavern committee has indicated they won't be able to use them there, Williams said. County Administrator Doug Caskey suggested selling the old bricks as a fund-raiser during a recent joint tourism committee meeting. The Board of Supervisors agreed last year that the structurally unsound building needed to be removed. It's considered a danger to passersby and restoration would be too expensive, according to county staff. The building was used in recent years for storage, and Tourism does not consider it an attraction.

Last year, General Services Director Edwin Wrightson estimated it would cost $150,000 to restore the old jail. Prior to the building being demolished or dismantled, the Isle of Wight Department of Historic Resources will document the jail's architecture and remove any artifacts for storage with the Isle of Wight Museum collection. Historic Resources plans to put a historic marker on or near the site. The cost to remove the building is estimated at $24,000 - $28,000, and it would be eight to 12 months before the work could begin, Williams said. After the building is removed, an archaeological phase I study will be done of the old jail site.

---

Send questions & comments to: President/Historian
Problems with web site ... contact: Webmaster
This Page Updated:March 02, 2012